Crafting
now browsing by category
Posted by:
kim
| Posted on:
July 2, 2016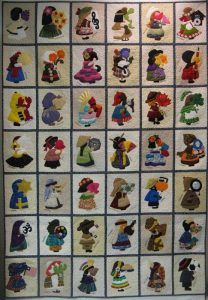 4th of July weekend
The second holiday of the summer is now happening. When I was little that meant half the summer was officially gone. Bad news for those of us who loved this summer holiday. As my daughters were growing up it seemed the summer holiday kept getting shorter. Less time for families to plan their anticipated vacations.
Now at this phase of life, as a Grandmother, I am back to thinking it would be nice to have nice warm weather as long as possible. Not to avoid the thought of going back to school, but our bones, we feel better! The upside to getting older is we can take the time, enjoy the moments again. The downside, well, let's just not think about our aches and pains.
The saddest thought of all, it came today, was, as I sat working on my Blog. The tv was on. I leave the volume off. It is mainly on the news – and we all can recite the news forecasts by heart. -More about  mans inhumanity to man. In the 1950's when I was still pretty young, I remember Dad telling me that after the World War II, peace would be established. That now after the horrible Nazi regime had been defeated we could relax and be partners with the rest of the world. Or at least co-exist. Well, those words,lasted only a few moments. The Korean War, Vietnam War etc etc kept happening. At first I thought these wars were just minor blips to that peaceful world Dad was talking about. I am now a Grandmother. My Granddaughter about the age I was when Dad first uttered those words to me. The world today is still battling it out over every imagined difference of opinion. I remember the Peter,Paul and Mary song, "Where have all the flowers gone," – we know the answer in that song.
I think of all the different countries I reach on my computer. I think I have made contact with all the continents of this earth, most religions, all races. We all share the love of Art and its beauty. I am so amazed at the beauty I see, on a daily basis, from so many different cultures. If I were an international traveler I would I am sure be totally broke by now, living in a house stuffed with beautiful art from all over the planet. Now with Internet shopping we average shoppers can run that same risk. But I am older now, our family home is already stuffed. I am always tempted by what I see, but it is easier to pass things by. I even appreciate when I see all these wonderful items, just as a picture, not where I can buy it. It is like going to the museum of the good things in life and enjoying the scenery.
Watching the news on this 4th of July holiday, I seriously doubt the world that my Dad was hoping for, will be, at least in my lifetime. If only we could all be artists. Or at least see the world as an artist. As gentle and creative souls marveling at all the beauty that both nature,and that we, create. To see each culture for its beauty and its citizens as our friends. With the internet now creating a global community we should all take time to say hello to our fellow travelers from everywhere on this planet. Let us all share in our diversity and beauty. Not with bullets and hatred.
-From one very, very very small voice.