Uncategorized
now browsing by category
Posted by:
kim
| Posted on:
June 26, 2016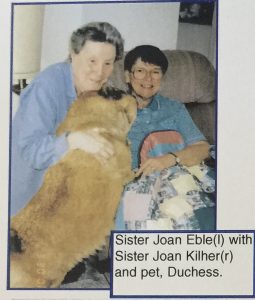 Getting past Difficult Times:
A different evening. The air is cooler tonight. The sun has disappeared behind the house. I can sit in my favorite chair on the patio. I hear all sorts of bird voices. They are having lots of lively conversations. My sweet dogs Ozzie and Heidi are sitting near me just relaxing at the end of the day too.
I just read an article about a lady who was in her 40's, without children, a successful career winding down, feeling how invisible she was becoming. We are always in a process of change. I am 66 and in my 40's I was chasing after kids, helping my parents, trying to keep my business going. Exhausted most of the time. I don't know if I thought of myself as visible or invisible. I was a single Mom so I did not have a husband to boost my visibility. Being a Mom to teenagers can be a thankless job. Most of the time you feel totally at odds with your kids. Thinking, "God, I have to be the adult in the room." I may feel the urge to throw a tantrum. But a tantrum from a middle age Mom is not the least bit attractive nor effective. And like the writer of the invisible story, we do have our ego pride that wants to be maintained. But children grow up and create their own lives. Even with a husband or partner the relationship over time changes with the cycles in life.
I am always quoting my Mom. She lived to be 96 and always had advise for any situation. When I was going through my divorce and it all seemed so dark and gloomy. The world that I had known was ending. In divorces you are not given that grieving space as you would if it were a death. I always felt I had to present a positive face. As if I knew what I was doing and where I was going. Of course I did not have the slightest idea how I was going to get from one day to the next. But smile, I could do that. I even read an article that said if you are unhappy, simply start smiling. Your body does not know the difference and pretty soon you will be feeling happier. I decided to not be overly cerebral, so this method helped. Mom at this time had just lost her husband of over 50 years, my Dad. I was so absorbed in my misery I am sure I did not appreciate what she was going through. But being true to form,she realized we were becoming a couple a grumpy old ladies with very sour dispositions. I am sure she realized that I, her daughter would never find that nice companion in this state.
Mom's philosophy was always looking for signs that are around you. She felt certain if you are trying to understand what is happening and how to go forward,we would be given signs. We just had to be open to seeing them. She was also always reading books. Scads and scads of books. Serendipity happened that at this time she was reading about how using your hands, as in crafts was a great stress reliever. We also saw a notice in our Church newspaper that told they were wanting to start a Prayer Quilt Ministry. Off we went to their first meeting. I had sold my sewing machine so how I was going to make anything? That did not dampen our enthusiasm. Mom was convinced that by using our hands to make something lovely it would help both of us out of our doldrums.
I am not sure if it was actually the making of the quilts, or the absolutely beautiful people we met, but magic began to happen. Mom had other friends who were becoming widows and feeling very alone. A close friend, Joe Prinster, came to visit Mom and brought a truly amazing woman came with her, a Sister Joan Eble. She was a Catholic sister. Maybe 15 years younger than Mom and Joe. Mom and I thought of ourselves as marginal Episcopalians. They had nuns too. But Sister Joan was one of those signs that Mom thought came into our lives to give us guidance. She and my Mom immediately bonded for the rest of their lives and she gave us the light to see out of our own darkness.
Her solution was simple. She gave us a challenge, if we made quilts she had lots and lots of people who would love to receive them. The prayers would give the quilts special importance for people who needed healing and comfort. She had lots of people who would be helped by receiving the love and prayers that the quilts represented. Mom and I jumped into quilting with real fervor. I got a sewing machine and Mom did the hand sewing. Sister Joan was quite an artist too. She designed a special label that we would put on the quilt. It showed an angel holding a quilt. A lady downtown that had a sewing machine store volunteered to digitalize the drawing and make up the labels. They were adorable. What particular faith was of no concern to Sister Joan either. She worked in all the hospitals, the VA hospital and nursing homes and care facilities.
Mom also had a fearless quality about her. She always had spoken in front of groups. She never hesitated to express her opinions. -Even when she was expressing an opinion that was not accepted by the group she was talking with. She was always willing to stand up and tell it like she saw it. This made her the perfect candidate to be our public relations person. She would go in to any Church, or group and show our quilt and tell how it represented out collective love and goodwill and prayers for the recipient of the quilt. The quilt did not come from us, but from all the loving people who would tie ties in the quilt and pray for healing. We went to most of the Churches in Grand Junction. No one ever asked us about what Church we attended. Mom would stress that the quilt was about prayers and healing.
So I feel that it is by stepping out of our own personal sorrow and helping someone else in their struggle do we begin to heal and go forward. After we would hear the stories of the people who were being given the quilts, we never could spend much time on our complaints. The positive energy from all the groups of people we went to gave us such a feeling of love. A whole group of Mom's friends got involved and we all saw more smiles and enthusiasm.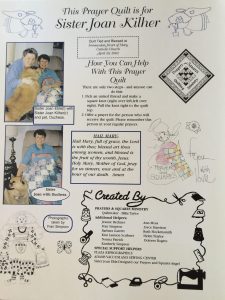 ---
Sent from my iPad